It's official! The next generation of the OmniPod Insulin Management System has been approved by the FDA!
I've just finished speaking with Sean Gallagher, Senior Director, Marketing for Insulet, person living with type I diabetes and OmniPod user. We spoke for a bit this afternoon and I have some fresh information about the new Pods and PDM to share.
The name remains the same: You won't be wearing the OmniPod G2 or OmniPod Lite. Just good old OmniPod.
Pricing: There will be no price increase for the new system.
Transition: Insulet has been working for "18 months" to make the transition to the new smaller pod "easy" and fast for us the users.
How the upgrade happens: Current OmniPod users will receive an email stating that upgrading is possible. All you have to do is contact them back to get the ball rolling. Sean stresses that the process will be super easy, fast and efficient. They are working hard to make the transition a pleasure.
When? When can I get them?: There is some training of staff, endos and the like that's happening now. Expectations are that those steps will be finished and the new Pods will begin being delivered in the first quarter of 2013. I know you feel like you've heard that before but this time the ball is completely in Insulet's court, they have control, I'd bet anything that this time frame is accurate.
More when: For customers that are currently under warrantee. Your new Pods will arrive after you've exhausted the stock that you have in your home. Upgrades will happen at re-order only.
Any insurance stuff to worry about?: Simply, no. If you happen to be outside of your warrantee there will be some steps to take between Insult and your insurance company but Sean assures me that most of that process will happen on their side of the equation, requiring only a minor amount of effort on your part. The man said, "easy" is their goal, I believe him.

Interesting technical stuff


The insulin reservoir capacity remains the same even though the pod is smaller.


I asked Sean, "how did your R&D people accomplish the size reduction?" He responded simply by saying, "they're brilliant!". The slightly more technical reasons however include, the insulin reservoir shape has been changed to an oval and flattened. Plus the new Pods require only three, instead of four batteries because of enhancements that lessened power requirements.


The new PDM has a dramatically improved stated signal range of five feet, but between you and me, I've seen and used one during FDA required Human Factor Testing... I'd try backing up if I was you.


The smaller Pods have a new feature called a 'pink slide.' When the cannula deploys correctly, it pushes a piece of pink plastic to be visible through a new, second window on the top of the pod's surface. You can use this together with the regular viewing window for additional confirmation of insertion. - Info and picture added at 5 pm on 12/14 after second conversation with Insulet.


Why the long wait:
I expressed to Sean that the long wait for the newer, smaller, lighter OmniPod made me wonder if they were ever going to see the light of day in the U.S.
Sean indicated that the Human Factor Testing requirement from the FDA was in it's infancy (my word) when they were seeking approval and that both sides lived through a learning curve. He did stress that he genuinly belives that the "process is valuable" and when I asked if it was fair to say that the process provided me (and you) with a better, safer insulin pump, he did not hesitate to say, "yes".
Sean closed out our discussion with two thoughts that I will share.
He hopes, for two reasons, that those of you that may be preparing to begin pumping with OmniPod don't feel as though you should wait for the new Pods to become available. His first point (that I can completely agree with) was simple. The current version is a great device. I can't argue with that. If you start today you will be using a wonderful insulin pump, one that has benefited many including Arden for years. His second point was a reminder that the transition to the new Pods will be so easy that it won't even cause a blip in your day to day life. So there's no reason to wait.
I'm choosing to include his thoughts, that you may read as marketing (and perhaps it is) not just because I believe in the company, but also because I know that Insulet is a small company. I don't know for sure, but I'm willing to guess that they wouldn't do well financially with a less then normal amount of new customers over the next three or so months. That's my honest take on this issue, I make no secret that I'd like Insulet and OmniPod to thrive, it's good for my daughter and for all of you that wear the pump.
Lastly:
Sean wanted all of us to know that he and Insulet appreciate all of our paitence during this long journey. He is thrilled by the reception that OmniPod receives in our community and is touched by the eagerness that the new generation OmniPod is being greeted with. He said, "I am happy and excited to put the new OmniPod into hands".
Now for the pictures, you know you want to see the pictures!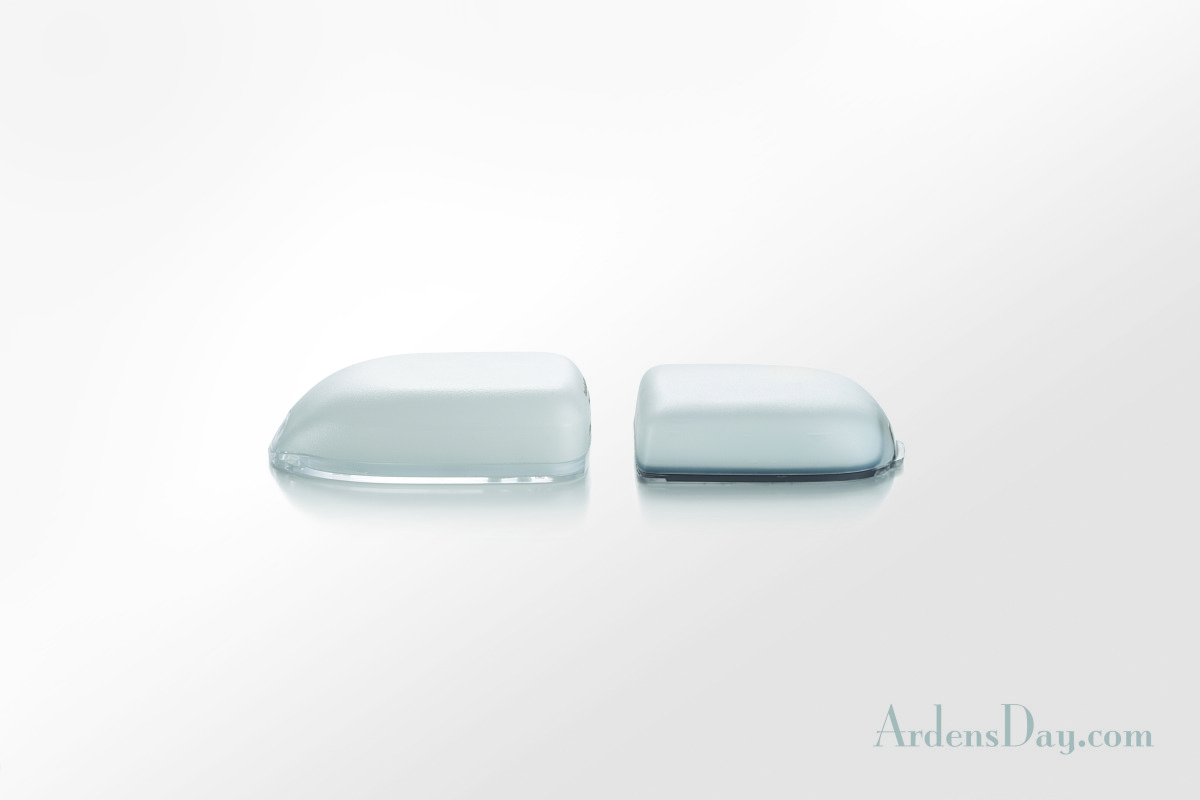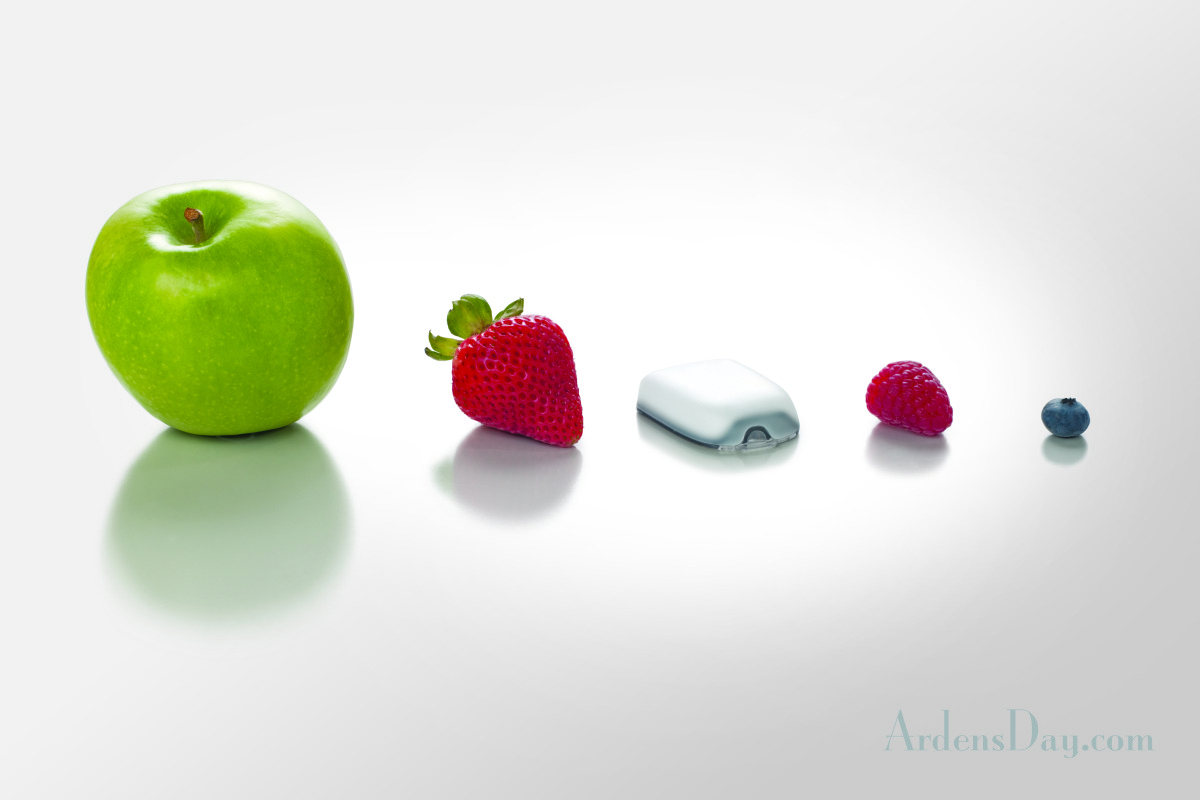 Hi-Res version are available in the Visual Record section of the blog.
I have good news about the new OmniPod for my Canadian friends right here