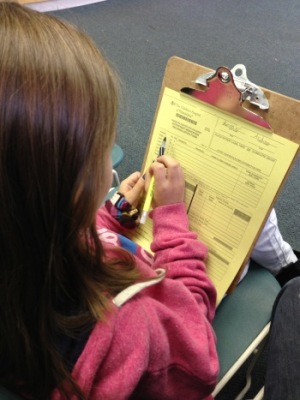 I've never said the actual number here before. I've never had the nerve to say Arden's A1c is 8.5 and no matter what I do I can't seem to get it to go lower. Back in February when Arden's A1c was at it's lowest point ever, I still couldn't tell you that it was 7.8. We had a .7 reduction in February, the biggest single leap ever, a sign that we had cracked the code and still... I couldn't say the number out loud. As proud as I was of the 7.8, I couldn't bear the thought of you adding .7 to it and realizing that her A1c was 8.5 just three moths prior.
A1c is funny. Everyone tells you not to measure yourself against the number, yet it's the only number that we measure to examine the job we are doing managing type I. I understand why I shouldn't measure myself, but if not with this, how? How do I know if we are doing okay, better, worse?
I tried, just as I always do, to not think about what Arden's A1c was going to be as we walked into her Endo appointment yesterday. I was doing a good job too because I was so focused on the fact that Arden was filling out the pre-visit form on her own for the first time. It made me think back to the first time we brought her to this office, she was two years old and this whole thing seemed like a bad dream. In those days the A1c results made me nauseas. One time, back when the tests took much longer, our NP caught me in the lobby as we were leaving to say that Arden's A1c dropped .2 to 8.7. I cried right there in the lobby when I heard the news and the NP hugged me because I was so inconsolable, so happy, eminently relieved.
I cried because each point felt like more life, like better days. Forget the notion that we are doing something right or not, I just want Arden to live as long and as healthy a life as possible. Ironically, I want the same thing for all of the people that I love and I'm probably making far worse life choices for myself and others then I do for Arden. Diabetes is the catalyst that makes me pay attention to this degree, it is a curse and a blessing in many ways, this is one of them. Now it's six years later, Arden isn't two, and I'm not new to this diabetes thing. "It does get better", I thought as I watched her write her name on the form. Maybe not easier, but better.
You'll get better, I got better, good things are coming.
So yesterday when the NP told me that Arden's A1c was 7.5. I just smiled and said, "great". Sure my eyes tried to fill up a time or two as she praised Arden for her hard work. I was so proud of Arden that I didn't have time to make the connection between the number and Arden's health. I never thought of it like it meant more days, no arbitrary feelings that we did something monumental or did something that meant the literal difference between having a tomorrow and not. It just felt like an accomplishment, no different then if I had completed an exercise goal or written a blog post. I set out to do something and got a good result. Simple. If next time doesn't go our way, then we try again much like hitting a baseball. Just because you don't always get the result you desire doesn't mean that your approach is wrong, only that you are doing something that has so many variables that it is not reasonably within your control. Your job is to win the ones that you can and not let the others slow you down.
I think I'm finally past the part where I think of diabetes so fu@&ing literally ever second. Yesterday, I felt happy, not relived, not like I just pulled Arden from the jaws of certain death, just happy. I think one day, if you already don't, you'll feel the exact same way because it gets better.
It was a long road from 9s to 7.5 and we aren't finished yet. The NP asked me what my short-term A1c goal was and I said with some confidence that I think I can get it to 7.1. I've identified two times of day with CGM graphs where I think we can do a better job of pre-bolusing and making better food choices. Those changes should move the number toward 7.1. I'm going to start by trying to effect those moments and see where we are in three months. I'll strike out once and a while, but I bet that by the time another three months goes by, I'll have more hits then outs. This is how, in my opinion, you should measure yourself. Simply by being able to say that you are trying with every ounce of who you are. By understanding that you aren't trying to win and that it's not possible for you to lose. As long as you don't give up, you're doing perfect!
I want to take a moment to list a few of the factors that I believe have the biggest influence on Arden's A1c results. When the NP asked me what my secret was I flippantly said, "Apidra, DexCom and not sleeping", but there is more to it then that.
Support - Love and support from family, friends and teachers is huge.
Insulin Pump - Being able to give insulin quickly and unobtrusively for meals, snacks and high BGs.
CGM - Arden's DexCom is a window to the past, present and future of her BGs and I couldn't make the pinpoint adjustments that helped us get to this new level without it. It's sad to me each day that the FDA doesn't approve it's use for young people.
Over night monitoring - Arden is sleeping almost half of each day, if you can control the night then a few bumps during the day don't hit the A1c average so hard.
Apidra - Arden's BGs are move stable on Apidra then they ever were with the other insulin she was using in the past. Make sure you are using the insulin that works best for you... not just the one some sales person gave your doc.
D.O.C. - You all give me strength to do these things when I otherwise feel like I can't. It's knowing that one of you is awake, sad, crying, happy or running around out of your mind like me that makes me realize that I'm doing okay.
As we walked through the lobby yesterday on the way to our car we saw a teenage girl filling out the same form that Arden had just written her name on one hour before. This girl was just on the verge of being a woman and that almost made me cry... but it didn't have anything to do with type I diabetes. It does go so fast, just like they say.
Arden's A1c is Seven. Point. Five!